Splashy's Swim 'n Fitness is a fun place for both kids and adults, with a beautiful heated INDOOR POOL, and awesome INDOOR PLAYGROUND and PARTY CENTRE. It is located in Bradford West Gwillimbury in the beautiful countryside, close to many towns such as Schomberg, Tottenham, Newmarket, Beeton, Nobleton, Alliston, Cookstown, Aurora...
Swimming Lessons.
Children's summer camps.
Birthday parties for kids.
Inflatable bouncers.
New Gymnastics, Play& Fitness programs for kids.
Women's Club. Aquafitness and Fitness.
Special events and programs for families and kids.
Established in 1989, owned and operated by Piret Kreem-King.

Celebrating 24 years!
1/2 km west of Hwy 27, 2 roads south of Hwy 88 (Bond Head), 5 roads north of Schomberg (Hwy 9)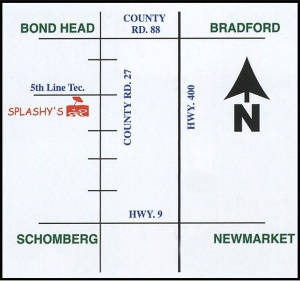 Physical address is 4513 Line 5 Bradford West Gwillimbury
(Note, do not follow GPS)
Mailing address is 4507 Line 5 RR3
Tottenham, Ontario
L0G 1W0
(905) 939-7581 piret@kingkom.com